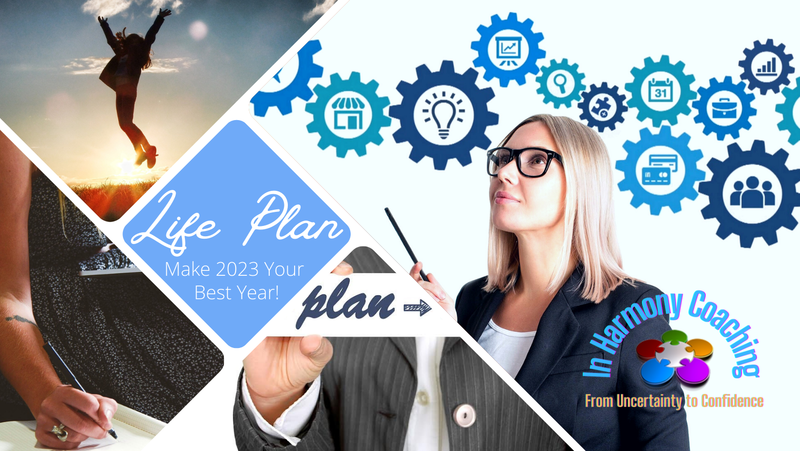 Life Plan for the Best Year of YOUR Life
Would You Love Some Structure and Life Direction in Your Life?

Are you feeling uneasy that 2023 is coming soon and you do not have a clue of what you really
want to accomplish next year?

During December, many people start experiencing self-judgment of what they DID NOT
intentionally completed this year. Are you questioning how you can increase the likelihood
that the new decade is one where you feel filled with hope, optimism, and confidence with
having a clear, simple and actionable LIFE PLAN?

I am happy to announce an online 4-week training course called Life Plan for the Best Year of
My Life. This class is simple, easy, flexible, fun and inspiring. Since, it is created with a small
group, the participants and a Life Coach provide a supportive community with feedback, ideas
and help you mastermind challenges. It is about getting started now with training, tools, and
inspiration towards developing a simple plan to start the journey in living the life you love!
How Do You Feel About Your Life?
What would be the difference if you made some positive changes in your life? What is the cost
of staying where you are now? What if you learned that planning your life, creating goals is no
BIG DEAL? Many of my students have surprised themselves in creating a fun, simple, inspiring
and unique life plan which has helped them become more hopeful for the life they love.
The Life Plan for the Best Year of My Life
This training program is designed to identify your purpose, your vision, your values. The weekly
lessons will provide guidance and inspiration for your actions in the new year, 2023!
During the time we spend together, you will have time to ask questions and receive answers to
clarify any confusions. The small group provides an amazing supportive community!
This is a short four-week online class that will be conducted on Zoom video conferencing. In
addition, you will receive a private one-to-one coaching session to go over your personal life
plan with a trained Life Coach.

You will enjoy the flexibility of taking this online class in your home. This four-week class is
designed to transform your life towards taking a bigger step in your life and moving closer to
what you want and have been dreaming of!
What You Will Receive
In this 4-week training and coaching program, you will:
 Be trained in a step-by-step method to create your life plan for one year.
 You will get clear and specific of what goals you want to create.
 Get support, tools, outlines and coaching support to complete your written plan.
 Complete the training with a renewed, inspired outlook and with a written plan to achieve the positive change you are seeking!
Detail on This Class
Dates: Thursday, 1/19, 1/26, 2/2 and 2/9/23
Time: 3:00 pm to 4:15 pm
Place: Zoom online video conferencing, TBA.
Investment: $197 Early Bird investment until December 30, 2022 for $157.

What You Need to Know About Your Coach
Hi, I am Laura Diaz, Board Certified Life Coach and I will be facilitating your journey on this
training coaching program.
I started In Harmony Coaching in 2011, one year prior to retiring from my work as a Team
Manager. I am a trained life coach, speaker and trainer.
Life Coaching has been a natural transition on my personal journey. I experience much joy in
being of service to you with my life coaching programs!
Questions
If you have any questions, please send me an email to This email address is being protected from spambots. You need JavaScript enabled to view it..
Registration
You can register with the PayPal button below. You can also contact me in person to register by
cash or check. You can use your credit card with PayPal.


STEP 1: Register below:
STEP 2: GO TO Paypal CHECK OUT:
Tags: Group Coaching, Life Plan