NEW DREAMBUILDER™ GROUP COACHING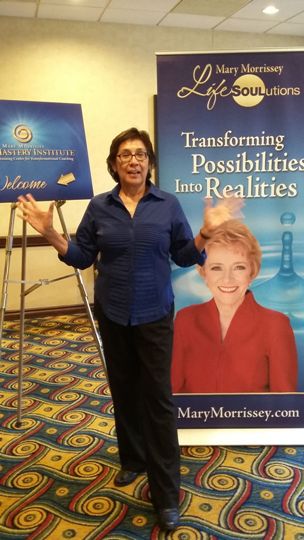 The DreamBuilder™ program was created by Mary Morrissey with Life Mastery Institute.
The Dream-Building tools and principles have, over the past 30 years, helped thousands of people all over the world transform their lives. This program is for 12 weeks or 3 months, focusing on 4 stages of Dream-Building which are: Blueprinting, Bridging, Building and Becoming. This is a proven and tested 12-week transformational success program.
During the training and coaching for the 12 weeks, you will receive personal support, inspiration, motivation and accountability, which are all required to create positive change.
DreamBuilder™ COACH
In 2016, Laura Diaz trained with Mary Morrissey and Mary's team and completed the coaching training program to be certified as a DreamBuilder™ Coach.
As a DreamBuilder™ Coach, she uses the DreamBuilder™ Program in coaching individuals and groups. This program has helped thousands of people all over the world transform their lives. The DreamBuilder™ Program has helped her transform her own life and business in amazing ways.
In this DreamBuilder™ Program we offer a dynamic coaching program tailored to your specific needs.
WHAT YOU WILL RECEIVE
The curriculum and content in this program are carefully mapped out for maximum effectiveness in:
Breaking free from limiting beliefs and self-sabotage for accelerated results.
Developing authentic confidence.
Determining what matters most, amplifying your vision, and activating your best resources.
Finding strategies for overcoming fear, doubt and worry.
During the coaching of this program, you learn how to rely on yourself and believe in your unlimited potential and power. The personal coaching that you will receive provides an individual with the most critical ingredient for consistent success: ongoing support, detailed action plans, constructive feedback and motivation for continual success.
The wonderful thing about this program is that you will learn a new, life-long skillset that you will be able to use in reaching other goals and dreams.
Questions & Next Group Program
New DreamBuilder™ Coaching Groups are forming all the time! If you are interested in finding more about this program, contact Laura Diaz at This email address is being protected from spambots. You need JavaScript enabled to view it. or set an appointment via her electronic calendar https://www.calendly.com/ldiaz51